Description

Video-Instruction

Questions & Answers

Artwork & Delivery Time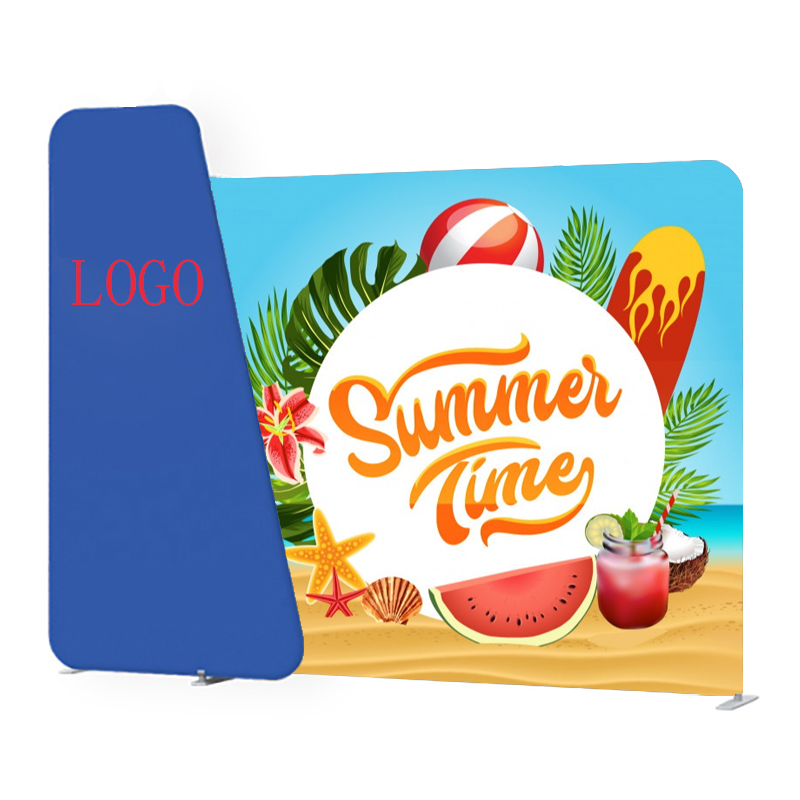 Will my display have seams?
There will be no seams in your tension display. There is stitching down the side of the fabric that is barely visible and will not affect the overall appearance of your display.

What material is the frame made out of?
The poles which make up the frame or stand are made from a lightweight aluminum, which give the display a rigid frame to be secured to while providing excellent lightweight portability.

Can the tension fabric display be used as a photography backdrop?
Yes, technically this custom tension backdrop can be used as a photography backdrop. When used for this purpose, we recommend including the available LED lights to increase the professional appearance of the display in photographs. It should be noted though that this is not the main purpose of the display and no professional accessories or lighting that is typical of a professional photography backdrop are included with the custom display.

How thick are your tension fabric displays? Do you offer any other thickness options?
The material of our fabric display is 9 oz., which is offers a high-quality thickness while not limiting the ability of the fabric to stretch. We've found that this thickness of fabric is best for this product option and, as such, do not offer any other thickness for tension fabric displays.

Is the frame adjustable in size?
No, the frame for the tension fabric display is not adjustable.

Do you print double-sided tension displays?
Yes, we do offer a double-sided option for our tension displays.

Can I use tension fabric displays outdoors?
Tension fabric displays are specifically designed for indoor use. We do not recommend using tension displays outdoors, as this will decrease the longevity of the display. They also will not work in any kind of inclement weather.

If I purchased the optional LED lights how do I set them up?
If you purchased the LED lights your shipment will contain two additional parts for your assembly. These parts are half-moon in shape and go over the top pole. With the attached screw you simply tighten the screw to lock them into place. The bottom of the LED lights is then designed to slide into a corresponding part of the pieces just attached. Simply drop the wires down the backside of your design and connect them to a power source.

How do I wash my display? Can I use a washing machine to clean my display? What about a tumble dryer to dry it?
The tension fabric display is machine washable with cold water on a low cycle setting. Do not use any heavy detergents or bleach when washing the display. Only allow the display to air dry. Do not use a tumble dryer, this will cause warping of the fabric and possible damage to the printed design.
Artwork Notice:
1. Use our Free File Upload Artwork Service to send artwork or Send us your download Link to your Salesman with order number !
2. If you want to
save time
,Sending both the confirm file proof in (JPG format) together with the printing file(AI,PDF OR EPS format) !
3. Please review the artwork/graphic guidelines and Instructions before placing your order.
We cannot be responsible for orders that are delayed due to artwork/graphics which do not meet the provided requirements.
Big Order Contact your salesman;
Contact salesman (Sign in your account ,find out your salesman's name and email address)
Production Time:
About 1-3 Working days,after artwork is approved ;
Delivery Time From China To Your Hand:
America and Canada: About 2-3 Working days;
All Europe: About 3-5 Working Days;
Australia and New Zealand : About 3-5 Working Days;