Description

Video-Table cover instruction

Questions & Answers

Artwork & Delivery Time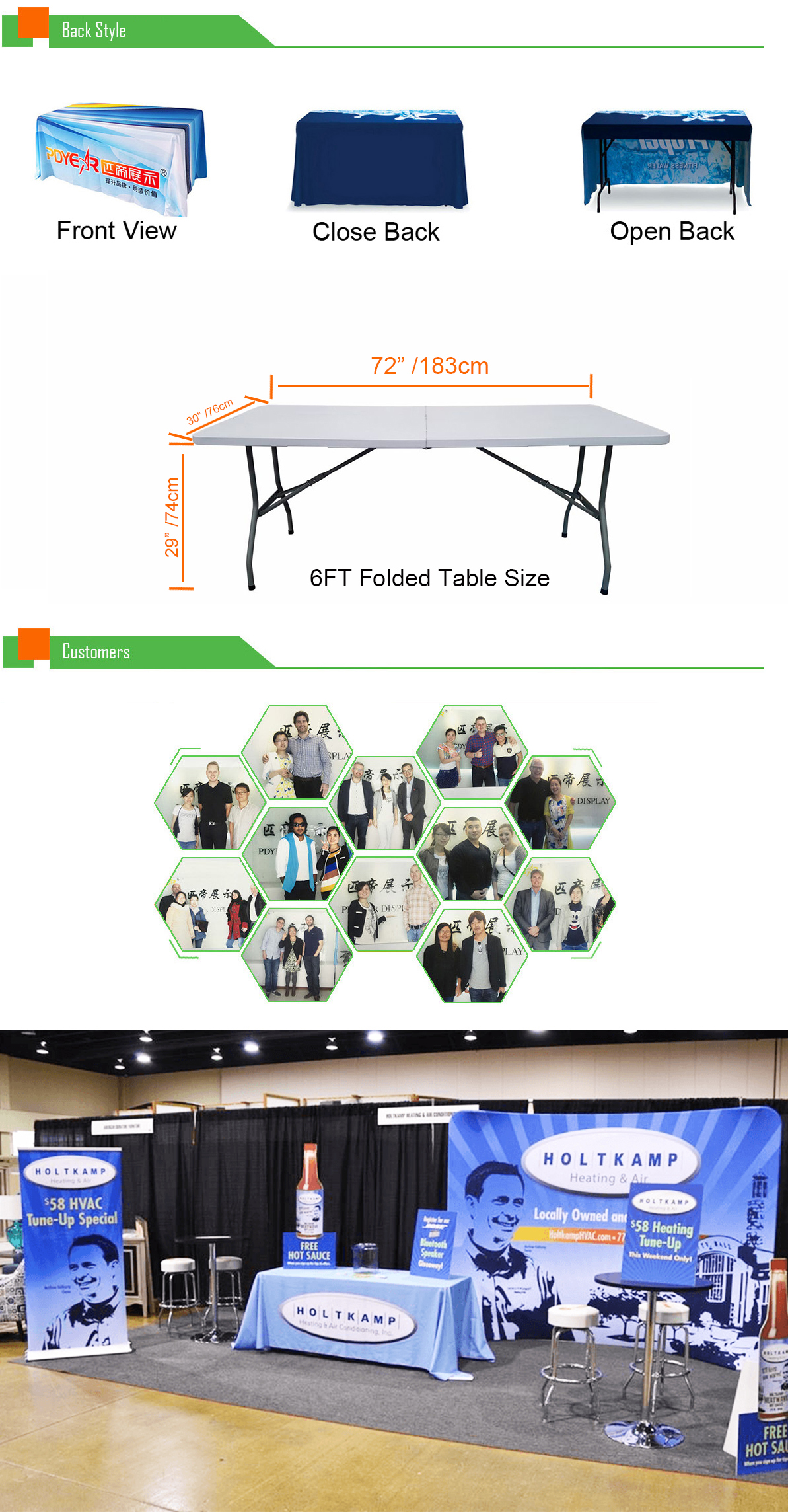 What colors are available for your table covers?
We print our custom draped table covers in full color! This allows you to print your design with as many colors as you'd like for no additional charge.

What material is draped table covers made of? Are there any other materials I can choose from?
Our draped table covers are made from 9 oz/250g. polyester fabric which allows for stretching without impacting the print clarity or durability. We only offer polyester fabric for this product.

Do you print double-sided table covers?
We do not print our table covers double-sided for reversibility. The inside of your table cover will be white and unprinted.

What is the printing area for your table covers? Can I only print on the front or face of the cover?
We offer complete entire area printing and printing on all sides of our custom draped table covers. This allows your design to not only be on the front or face of the table cover but the top and sides as well.

What printing process do you use for the table covers?
Our custom drap table covers are printed using a dye sublimation process. This process prints the design directly into the fabric which results in a long-lasting and vibrant design.

Are draped table covers fire retardant or flame resistant?
Our table covers aren't meant to be flame retardant or fire resistant.

What are some common uses for table covers?
Although draped table covers can be used for a number of reasons some of the typical uses that we've seen are for tradeshows, conferences, offices, expositions, farmer's markets, and more!

Can I use my table cover outdoors? Are they weather resistant?
Draped table covers are designed for indoor usage but can be used outdoors.

How long will my table cover last?
With proper usage and care you should be able to use for you table cover for 3+ years.

I took my table cover out from storage or shipment and it has wrinkles on it. How can I remove the wrinkles?
During storage or shipment your table cover may become wrinkled or have fold lines. These wrinkles will typically disappear once your table cover is stretched taut across the table. For any that remain, they are typically easily remedied by using a household fabric steamer to remove them.

I need help designing my table cover. Can you help me get a design?
Absolutely! We'd love to help you get the perfect design for your cover.

My table cover got dirty at the last event I used it at. Is there any way I can clean it without ruining it? Will the colors bleed?
During regular use you may get dust or small smudges on your draped table cover. While you should try your best to avoid the cover from getting dirty during use we understand that life happens! To spot clean your cover you can use a damp cloth mixed with color safe laundry detergent to remove surface dirt. For deeper cleaning you may machine wash the cover with cold water on a gentle or low cycle. Air dry your cover by hanging it or laying it out. Do not use a heated or tumble dry machine. Extreme heat, dryers, irons as well as bleach and other chemicals should all be avoided to prevent damage to your table cover.
Artwork Notice:
1. Use our Free File Upload Artwork Service to send artwork or Send us your download Link to your Salesman with order number !
2. If you want to
save time
,Sending both the confirm file proof in (JPG format) together with the printing file(AI,PDF OR EPS format) !
3. Please review the artwork/graphic guidelines and Instructions before placing your order.
We cannot be responsible for orders that are delayed due to artwork/graphics which do not meet the provided requirements.
Big Order Contact your salesman;
Contact salesman (Sign in your account ,find out your salesman's name and email address)
Production Time:
About 1-3 Working days,after artwork is approved ;
Delivery Time From China To Your Hand:
America and Canada: About 2-3 Working days;
All Europe: About 3-5 Working Days;
Australia and New Zealand : About 3-5 Working Days;